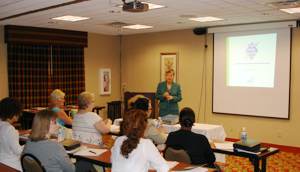 The Trained Sewing Instructor program teaches you how to teach sewing to others. It's the only business training program that is specific to the sewing industry.  The course is 3 days and provides a solid background of business information while helping to develop teaching skills through interactive sessions.
Class sizes are limited to allow for personal interaction and practice teaching sessions. Topics include:
Deciding What to Teach
Deciding Where to Teach
Planning Successful Sewing Classes
Creating Lesson Plans
Teaching Techniques
Teaching in Retail Stores
Teaching Sewing as a Business
Risk Management
Marketing & Advertising Your Services
Presenting a Professional Image
Sewing Up Your Business
Practice Teaching to Group
The last stop in 2010 for the Trained Sewing Instructor workshop is Chicago on October 28-30, 2010.  To learn more, visit www.TrainedSewingInstructor.com.