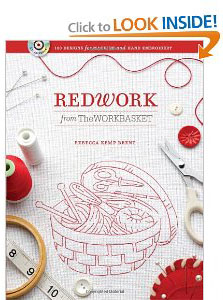 You may remember The Workbasket magazine from years past…it was a handy primer for needlework and crafts, often complete with iron-on design transfers. Like many sewing resources of eras past, it's no longer published, but this contemporary book, Redwork from the Workbasket by Rebecca Kemp Brent, brings the flavor back to life–with a modern twist.
The book comes with a CD that contains 100 designs for both hand and machine embroidery. They run the gamut from animals and flowers to fruits and vegetables and the ever familiar days of the week kitties for dishtowels. The CD includes the designs in seven common machine embroidery formats, plus jpeg and PDF files if you want to utilize them for hand stitching transfers.
In addition to an interesting history of Redwork, you'll find detailed information about various thread types and stitching techniques. Twelve projects give you the opportunity to use the motifs on aprons, towels, quilts, aprons and home decor items and more.
This book is a step down memory lane if you were a Workbasket subscriber. If not, you'll appreciate the history behind this iconic magazine updated for modern stitchers.