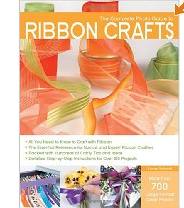 Who can resist a book with more than 700 large color photos? The Complete Photo Guide to Ribbon Crafts, by Elaine Schmidt, is definitely irresistible– all 224 pages of it!
Whether you want to learn to tie more than 20 kinds of bows for gift giving, accessories and crafts, or you want to make a garden of realistic looking ribbon flowers, this book will hold your attention.
Extensive information about ribbon embroidery, making tassels, rosettes and trims is included, along with ideas for jewelry and accessory making. You can learn to sew, weave, create patchwork and knit with ribbons, in addition to other craft specialties.
Step-by-step instructions, accompanied by detailed photos, make it easy to follow and learn the techniques. Projects are also included so you can put your new-found skills to the test. This book is a must for your sewing and crafting reference library!