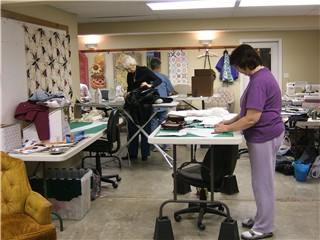 I'm writing this from Gleneden Beach, Oregon where I'm attending a week-long sewing retreat with 12 other wonderful women. We're staying at a condo complex called Beachcomber's Haven and we've come together the first week in November for a number of years–over a decade at least! We sew in the community room, affectionately titled The Sandbox.
We sew whatever we want, whenever we want–from before dawn to well after midnight sometimes. There are no rules…just great fun and lots of food! We take turns cooking dinners, but there are numerous snacks around the clock. Good thing we have fitting skills, as there are bound to be alterations needed after this week.
The comaraderie sewers have is incredible–and it's instant. Sewing brings us together and keeps us together. Perhaps you've had the opportunity to be involved in something similar, whether you're lucky enough to have an ocean view right from a well-appointed classroom or at a local venue, you can imagine the pleasure of a week of uninterrupted sewing time 24/7. It's just so incredible what you can get done.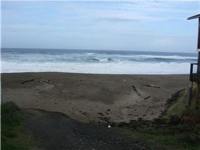 In addition to personal and gift sewing, we're also creating a fabric gingerbread house for Habitat for Humanity. All the entries will be given to needy families at the holidays. We've bedecked it with pompom snow, rickrack trim and notions in the "yard." Besides that, there's some charity quiltmaking going on–I just completed my third top that will be quilted by another group of women, then donated to hospitalized children at the holidays.
I know you can't all join in our great getaway, but do take some time of your own for some dedicated sewing. You need it and deserve it!