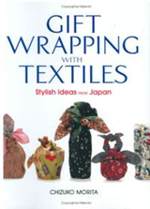 Gift wrapping–you either love it or hate it! My husband hates it, mostly because I tend to demand square corners and paper patterns on grain with the box shaping (OK, perhaps it's a bit too much to expect). I love wrapping, and once had a job when I was in high school in the gift-wrap dept. of a local department store.
A few years ago I decided to start using my boxes of holiday fabrics to make gift bags in various sizes that could be reused from year to year and recipient to recipient. That worked out well, but they all seemed to leave our immediate family, so each year I made more and more of them. This year I decided to try something different.
I found a great book titled Gift Wrapping with Textiles: Stylish Ideas from Japan
by Chizuko Morita. Goodness knows I have enough fabric to play with, so I skimmed the pages of elegant Japanese wrapping techniques and went for it. The first time I tried it necessitated a re-do, as I wasn't diligent about following the instructions. But the book shows great step-by-step photos and it's actually quite easy to produce some rather elaborate looking disguises for gifts. There are lots of large color photos throughout the text to inspire you.
Some of the wraps are double-layer, others are serge-finished single layers, but you could also use a no-sew technique and fuse under the raw edges.
The wraps vary by the size and shape of the gift, but they're so easy they'd make great kid's projects as well. And the fun part is that the recipient gets the fabric for a secondary use after they open the present.
One trick I did find helpful–in some instances you wish you had three hands to help hold things properly, so I used a bit of my temporary spray adhesive to hold layers in place. It doesn't harm anything and dissipates in short order. In the meantime, it provided staying power for beautiful gift wrapping.
So, as they say in the movie and TV industry–it's a wrap! Check out this great book for year-round fun.