Pantone, the world-renowned authority on color, has announced its color of the year for 2010 – Turquoise! According to the company, Turquoise (called Lagoon) "combines serene qualities of blue and the invigorating aspects of green. Turquoise inspires thoughts of soothing, tropical waters and a comforting escape from the everyday troubles of the world, while at the same time restoring our sense of well-being."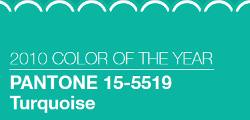 I have to agree! Like many people, I'm cold-weary and ready for a sense of the tropics. This color invokes thoughts of warm waters and gentle breezes. I'm picturing fluffy turquoise pillows on the sofa (such an easy way to change the look of the room). Maybe placemats with hints of turquoise for the table. And I'm sure I'll be hunting turquoise stones for decoration. I was surprised that Pantone is pairing Lagoon with all shades of red though. I wouldn't have thought of putting those two together but the combination is already growing on me.
Pantone also released its top colors for women's fashion for Fall 2010:
Endive – a revitalizing yellow-green
Golden Glow – an earthy, deepened shade of yellow
Living Coral – a softer, more inviting orange with a hint of pink undertone
Lipstick Red – a dramatic sensual red
Purple Orchid – a purple leaning to fuchsia
Chocolate Truffle – a rich brown with piquant plum undertones
Lagoon – tropical turquoise
Woodbine – neutral green
Oyster Gray – a classic neutral
Rose Dust – a flattering beige
See you at the beach!