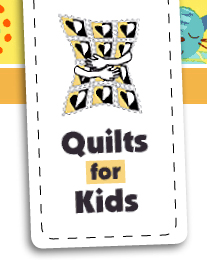 If you've not sewn for a charitable cause before, it can be quite rewarding. Recently I became involved with my local chapter of Quilts for Kids, a national non-profit group that delivers colorful quilts to hospitalized children, and others in need through Head Start, Ronald McDonald House, etc.
Making a quilt for a child isn't brain surgery and it doesn't have to be an artistic endeavor–all that's needed are some colorful fabrics and simple sewing skills. Even if you've never quilted before, you'll be successful. Quilts for Kids founder Linda Ayre says only two things are required–"Have fun and fill it with love!"
The quilt sizes vary from 27″-32″ for the NICU (neonatal intensive care unit) to twin size, and anywhere in between. Most of the ones I've been making are about 42″ square, so a single fabric width works for the backing.
Quilts for Kids has specific guidelines for fabrics and stitching on their web site, as well as a listing of chapters around the country so you can connect locally. The quilts have to stand up to repeated washings in the hospital settings, so be sure to follow the construction guidelines if you become involved with this group.
Not only is it a good way to use up your fabric stash and try out new quilting patterns, but it's a great way to help a child in need. Free kits are even available from the chapters, should you not have any quilting fabrics on hand. Get together a group of sewing friends, adopt this project as a guild activity, or simply crank out the quilts in your own sewing room. Six million kids are hospitalized annually, so there's an unending need for quilts–and you can help!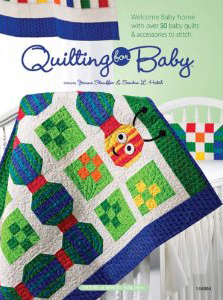 If you need inspiration for a quilt, check out Quilting for Baby, by Jeanne Stauffer and Sandra Hatch. This colorful book has over 50 baby quilts (and some other projects) to stitch up for little ones. Whether you want something interactive with pockets to hide treasures, or something with dimension and tactile appeal, you're sure to find a project you can't wait to make in this 176-page book, complete with full-size patterns and color illustrations in the directions.