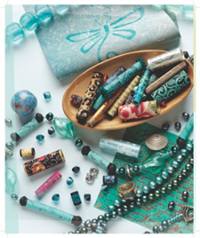 One of the fun things about attending Quilt Market, and also Quilt Festival which is open to consumers, is that you can go to lots of classes. I went to Kristal Wick's class about making fabric beads. In case you're not familiar with her work, she's the author of a new book titled Fabulous Fabric Beads
and it's great! If you love fabrics, stamping, foiling and other embellishments, do take a look at this one. And, it takes only inches of fabric to make beads.
Personally, I love learning anything new and taking a class about it is even more fun, as it allows for some hands-on playing and experimenting with skilled supervision by the teacher. There are always those who profess to having no artistic talent, but somehow they create wonderful things. With fabric beads, it's hard not to come up with something fun. Plus, this is also a great way to use your stash of other beads and jewelry findings in combination with the fabric ones to make a great accessory.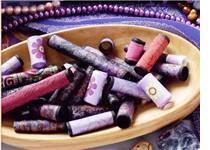 Kristal has been making fabric beads for five years, and she has a background in jewelry making, so it was a natural transition for her. Her signature Silkie Sassy beads are hand painted and to die for. They're lightweight and oh-sew-beautiful, whether on their own or paired with other types of beads.
In the class, we learned about two types of beadmaking–glued, and those made using a double-sided adhesive sheet for stability. Using a straw inside the bead adds rigidity to fragile fabrics and helps the beads hold their shape. So, the next time you visit a fast-food outlet, check to see what size and color of straws they have to go with your drink purchase. Stores offering smoothies and fruit-blended drinks often have fatter straws, suitable for bigger beads, while coffee stirrers work well for smaller, more delicate varieties. It's a whole new opportunity to add to the stash!
Check out classes in your area to learn new things–the medical profession says that it helps prevent dementia if you're constantly stimulating the brain. Personally, I think my brain is on overload, but the fabric beads will be my next adventure. There are so many things to try with the process and the class was only the beginning of some fun experimenting, so check out the book and begin playing!