Paper Zippers for Scrapbooking & Jewelry by ZPRZ
These 16″ zippers are just plain fun! Use glue to adhere them to paper to make a zipper pocket for scrapbooking (no stitching!) or make your own fabulous jewelry. You can see the Zipper Pansy Pin in the jewelry section of sewing. Lucky winners will received a collection of 12 zippers.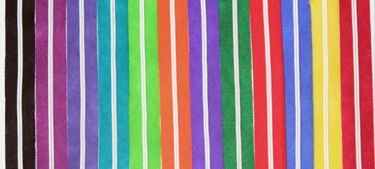 Designer, Linda McGehee, is the owner of Ghee's mail-order sewing and notions company. Linda has created a popular line of handbag patterns and also is a master at creating and designing with zippers. Linda has also published several books on sewing, including her hit current books, The Perfect Bag and ZIP Couture. She has also released a DVD called Bags Galore. Visit Linda's website at www.ghees.com
Congratulations to yesterday's winner, Jennifer Lachman from Pennsylvania!