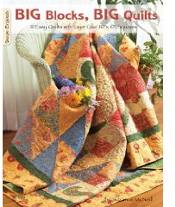 I'm lucky to be on the list for new releases from several publishers, and in turn to be able to share some fun books with you. One of the things I've noticed lately is the trend toward creating things fast, yet still having them look good. BIG Blocks, BIG Quilts and BIG Blocks Quick Quilts both by Suzanne McNeill, certainly fill that bill. These books utilize pre-cut pieces like Layer Cakes (10″ squares) to form the blocks of some great looking quilts.
Serging is also another means to create things quickly, yet with a professional finish. Ready, Set, Serge, by Georgie Melot, offers 32 great projects that you can create in only minutes with the serger. Plus, she includes comprehensive serger information if you've forgotten the basics of this wonderful machine.
Along with our need for quick, there's also some times when more serious information is needed. Deborah Jones has penned Machine Embroidery on Difficult Materials to answer those questions about embroidering on things like velvet, vinyl, leather and 16 other surfaces that can be a bit tricky. Get the low-down on stabilizers, needles and hooping these eccentric fabrics for embroidery success.
The goal of the book Fabricate, by Susan Wasinger, is to put emphasis on the fabric. There are 17 projects utilizing unique fabric effects, like pleating, cording, applique, etching, burning and pleating. So, if you need to play and love fabrics, this book is great fun.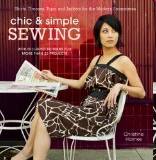 If simple garment making is more to your liking, Chic & Simple Sewing, by Christine Haynes, is a book you'll need. It offers full-size patterns for more than 20 wearables–like skirts, dresses, tops and jackets. Detailed sewing techniques are included with each project, so the learnings transfer to other garments and accessory sewing as well.
So, kick back on the next sunny day (or even a rainy one will do) and curl up with a good book. There are many to choose from, depending on your interests!