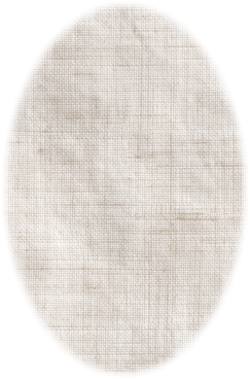 Linen fabric dates back to 8000 BC making it 4000 years older than both cotton and silk. Just about every country has cultivated the flax plant from which linen is developed. Growing flax that will result in quality fibers requires care and attention during the growing and harvesting periods. Flax plants are either pulled out of the ground or cut close to the roots when harvested. Hand-pulling has the reputation of producing better-quality linen. "Winnowing" or "rippling" removes the seeds. Fibers are then loosened from the plant stock by "retting", broken away from the inner bark and crushed between rollers to remove the woody parts. "Heckling combs" separate the short from the more desirable long fibers. The finest fibers, called line or dressed flax, can be up to 20" long. From here, the fibers are spun into yarns and then woven into different grades of linen. Belgian and Irish linens have long been considered the most excellent quality.
There is a luster to linen fabrics as well as breathable and wicking properties. Linen is better at repelling stains than most other fabrics and dries quickly making it the perfect choice in hot climates. Undyed neutral colors such as creams and beiges are very popular and becoming on nearly everyone. Dyed linens are excellent at retaining their colors. Often called the "workhorse" of fabrics, linen has multiple uses including clothing and household items.
Linen is woven in three weights: light for children's clothing, blouses, tops, shirts, dresses, chemises or lingerie, medium for skirts, dresses, summer pants or men's shirts and heavy for jackets, blazers, suits, historical costumes or men's trousers. Of course, you are only limited by your imagination, but take care not to choose patterns designed for knits.
Washed linen shrinks considerably, so pre-shrinking is a must. A steam iron and damp press cloth or professional steaming is an option for garments that will be dry cleaned. For maximum shrinkage, use hot water then dry flat. Machine drying can cause more wrinkling. Press slightly damp or use a damp press cloth to remove wrinkles. Take care not to "shine" or scorch the fabric. Be aware that, even though linen has anti-bacterial and anti-fungal properties, it can attract mildew if not completely dry when stored.
For the beginning sew-er, linen is an excellent fabric of choice, especially in a lighter weight. It doesn't slip and slide when cutting and easily feeds through the sewing machine. Since linen frays, pinking shears or a rotary cutter with a pinking blade work well. Pinking shears are hard on the hands when cutting double layers and less accurate so heavier weights generally need to be cut singly. If using straight shears, zig zag, overcast or serge the cut edges, especially the pieces that will be handled more. Chalk, marking pencils and tracing paper can be used for marking darts, etc., but tailor's tacks may do better on heavier weaves. Always test your marking choice on a scrap. Another option is accurately placed straight pins.
Thread is easier to remove from sewing mistakes in linen and less likely to destroy the weave. Sew linen with a quality basic sewing thread and press sewn seams on each side to set the stitches. Finish seams with overcast, seam binding, zig zag, clean finish or serging. Light and some medium weights can be flat-felled or French seamed.
Linen is the perfect natural fabric for today's "Green" movement. Nothing is wasted during the manufacturing process and the flax plant actually enriches the soil, needs practically no fertilizers, uses considerably less water and energy, is biodegradable and protects against UV radiation. What a wonderful legacy we've received from our ancient ancestors in this ageless fabric with the "dignified" wrinkles.