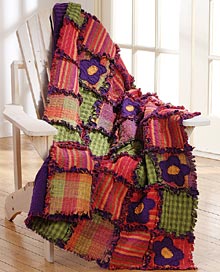 This may be the easiest quilt you'll ever make! The beauty comes from rag edges and simple squares of homespun fabric. You'll be amazed how fast it sews together!
Approximate Crafting Time: 8 hrs.
Skill Level: Some sewing experience helpful.
Materials
Top: 1-1/4 yards of homespun fabric in four colors
Flowers: 1/2 yard of homespun fabric
Flower Centers: 1/4 yard of homespun fabric
Backing: 4-1/2 yards of homespun fabric
1 yard of cotton batting
Pattern (pdf)
Tools & Supplies
Thread
Basic quilting supplies
Sewing machine
Directions
Note: Use 1" seams throughout.
1. For quilt top, cut sixteen 9" squares from each of four homespun fabrics for a total of 64 squares. Cut sixty-three 6-3⁄4" squares from batting. Cut sixty-three 9" squares from homespun for backing.
2. Make a little quilt sandwich of backing square (right side down), batting square (centered on backing square), and top square (right side up). Quilt as desired. (We chose to meander quilt.)
3. Enlarge pattern to desired size and cut out flower motif. (Note: You will need Adobe Acrobat Reader to download PDF pattern. If you don't have Adobe Acrobat Reader, click here to download the program for free.) We used 15 flowers and scattered them randomly on quilt top squares. Attach motif by quilting to within 1/4" of edge of both flower center and flower.
4. Using 1" seam allowance, form row by stitching 7 squares together, right sides of backing together (seam allowances on right side of quilt). Press all seam allowances open.
5. Make 9 rows with 7 squares in each row. Stitch rows together, with right sides of backing together (seam allowances on right side of quilt). Press seam allowances open.
6. Sew 1" around outside edges of quilt to stay-stitch.
7. Clip seam allowances at 1/2" to 3/4" intervals, being careful not to clip into seams or staystitching.
8. To fringe seam allowances, wash and dry quilt.
Hint: To avoid clogging drains when fringing quilt, use commercial laundry facilities unless you have a lint trap on your home washer. Check dryer lint trap frequently and remove lint build-up.
4/05