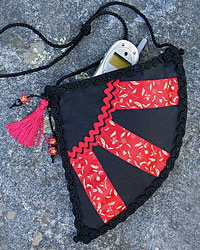 All you need to make this interesting purse in the shape of a fan is two small pieces of fabric. Add our Oriental-influenced ribbons and matching fan appliqué for special effect. It's simple to put together. The edges are finished with double fold bias tape; then add a few beads and trim for embellishment. With our simple directions, it is quick and easy – and the perfect fashion accessory!
Materials
1/2 yard Wrights® 1-1/2" wide red Oriental Ribbon (#222-229-065)
1 pkg. Wrights® black Double Fold Bias Tape (#117-206-031)
1 pkg. Wrights® scarlet Medium Rickrack (#117-401-076)
1 pkg. Wrights® black Medium Rickrack (#117-401-031)
1-1/2 yards Wrights® 3/16" Black Cording (#183-6141-031)
1 yard Wrights® black Trim (#183-6129-031)
1 Wrights® 3" red Tassel (#144-909-20)
1 pkg. Wrights® Fan Appliqué (#193-7180-001)
3 Wrights® black Frogs (#192-2280-001) (optional)
12" Wrights® 1/8" black Cording (#184-6305-031A) (for threading beads)
1 piece of black fabric 9" x 12" for front and back of purse
1 piece of black fabric 9" x 12" for lining
scissors
black thread
fabric glue
miscellaneous glass beads – look for beads with large holes for threading onto cord (optional)
Instructions
1. Enlarge and trace pattern onto black lining fabric and black purse fabric. Cut two of each fabric.
2. Sew one purse and one lining piece, wrong sides together. Repeat with remaining fabrics.
3. Cut three 5"-long pieces of red ribbon.
4. Pin ribbon on fan using pattern and photo as a guide. Stitch or glue with fabric glue.
5. Cut two 6"-long pieces of scarlet rickrack.
6. Cut one 6"-long piece of black rickrack.
7. Sew or glue rickrack onto front of purse, using photo as guide.
8. Cut two 9"-long pieces black bias tape.
9. Open bias tape and wrap around one straight purse section (Side One) for front. Repeat for back. These will be the finished edges for the purse opening.
10. Pin front and back purse pieces together (lining sides together). Stitch or glue in place around Side Two and Side Three.
11. With remaining bias tape, open one end and fold 1/2" to inside to make a finished edge. Press.
12. Open bias tape, and starting at point B, wrap and pin in place around Sides Two and Three.
13. Sew bias tape from point B to point C, continuing on to point A, stopping 1" from point A.
14. Finish end of bias tape at point A as in Step 11. Stitch in place.
15. Stitch or glue black decorative trim over bias tape around entire purse. (Tip: Fold under 1/2" at each end of trim and stitch or glue to prevent ends from fraying.) Optional: Stitch or glue frogs onto each corner of purse, placing one half on the front and the other half on the back.
16. Glue tassel loop on the inside of bag at point A (if using frogs you can tie loop of tassel around frog knot).
17. For strap, make a knot at each end of larger cord, and sew or glue to the inside of purse at points A and B.
18. Iron fan appliqué on purse back according to manufacturer's instructions.
19. Glue hook and loop dots inside top edge of purse for closure.
20. String beads onto each end of narrow black cording. Tie in a double knot around red tassel and frog knot for decoration.

8/05