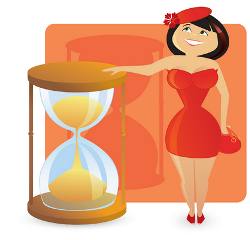 Now that you have taken accurate body measurements and determined the size pattern you need, it's time to identify your personal body type. This will be beneficial when choosing the most flattering style for your figure. There are five categories of body types: Hourglass, Triangle, Inverted Triangle, Slim Rectangle and Wide Rectangle (for more information, see Guideline 10.105 Body Types).
While there are several ways to determine your body type, one simple way is to be photographed against a solid light background wearing a dark body suit. Stand very erect with your arms falling naturally, but slightly away from your torso. If you can't easily determine your exact body type by just looking at the photo, draw each of the five types on clear plastic such as thin plexiglass. Draw them as close to the size of your torso photo as possible then superimpose each of them over the photo. This should enable you to choose your correct body type.
The Hourglass figure is considered ideal with a fuller bust, shoulders and hips in line with each other and a nipped in waist. Choose tailored jackets and coats, well-fitted dresses, slim pants and skirts and tops that are tucked into waistbands.
Narrow shoulders, a small bust and wide hips define the Triangle. Look for patterns accentuating the neck and shoulder areas with wider collars and necklines, yokes, embellishments or shoulder pads. Shy away from anything that brings attention to the hip area, such as tops that end at the hip, pleated or full skirts and patch or inseam pockets that tend to bulge open. Skirts should be at least knee length.
Wide shoulders, a full bust and narrow hips comprise the Inverted Triangle. Raglan sleeves and halter styles visually minimize wide shoulders. Eliminate any details such as too-large ruffles and flounces, wide collars, yokes or patch pockets centered directly over or slightly below the breasts. Add interest below the waist to draw the eye down, but avoid pegged pants and skirts. Select a shorter length skirt.
The Slim Rectangle is more of a straight up and down figure with shoulders and hips the same width but a less defined waist. Adding contrast at the bust and hip areas helps give the illusion of a smaller waist. Pants and straight skirts with pleats also tend to enhance the waistline as does a narrow belt. If using prints or color-blocking, always position the darkest shades at the waist.
The Wide Rectangle is also straight up and down, but with a wide waist. Military-style princess seams (falling from the shoulder to the hem) or modified princess seams (coming from the arm hole over or near the bust then to the hem) are excellent for this figure. Center seams as well as some diagonal design details also work well in visually dissecting this body type for a more narrow appearance. Body-skimming dresses and tops work well as do tapered sleeves, narrower pants and slimmer skirts. Eliminate details that bring attention to the waist making it look larger. Instead, use an attractive neckline as the focal point or an interesting design detail such as one that drapes across the body from the shoulder to slightly below the opposite hip. The most flattering fabrics are solid-colored, monochromatic or tone on tone smaller-scaled jacquard prints.
Knowing your personal body type is invaluable when choosing a pattern or design and will save you countless hours of frustration.