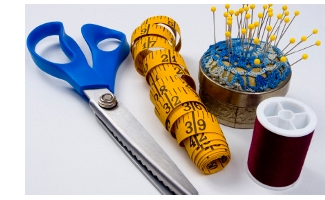 Like any good carpenter, sewists need a well-stocked toolbox. Below are the essentials you will need to outfit your sewing basket.
Tape Measure: These can be vinyl, cloth (the least desirable due to stretching) or plastic-coated linen. The most common size is 60" long by 5/8" wide with metal tips on each end for stability. A spring-loaded tape used for quick or necessary measurements can easily be carried in pocket or purse.
Yardstick: Choose a non-warping metal yardstick with 1/8 yard increment markings for quick yardage calculation. Other basic measuring tools are a 2" by 18" inch clear drafting ruler (also known as a Quilt and Sewing ruler) with metal edge, a clear ruler with bias markings, a French curve fashion ruler and a 6" seam gauge with nylon slider for measuring hems, tucks, pleats, button and buttonhole placement, etc.
Marking Tools: Chalk pencils, tailors chalk with holder, chalk wheels that use colored powder and air-or water- soluble pens whose markings disappear within 12-24 hours are common choices. Soapstone markers that work like mechanical pencils are also available with fine points for intricate markings. Colored pencils or markers work well to eliminate confusion when adjusting patterns.
Tracing Wheels and Papers: Wheels come with blunt edges for knits so the yarns won't be punctured or damaged. There is also less tearing of patterns and tracing paper. Serrated edge wheels are good for smooth, flat fabrics and needle-point tracers work well on heavier fabrics and transferring patterns and pattern adjustments. Tracing papers are available in assorted sizes and colors. Some will disappear within 24-72 hours or can be removed with a damp cloth. Test for water marking first.
Pattern Paper: Tissue paper, patient examination paper or Swedish Tracing paper all do well for pattern making and adjustments. Inexpensive examination paper can be purchased at a medical supply house. More costly Swedish Tracing paper is stronger and molds better on the body when pin-fitting .
Hand-Sewing Needles:
Sharps (most common for hand sewing)
Betweens (for short, detailed and fine stitches on heavy fabrics, tailoring and quilting)
Crewel or Embroidery (same size as sharps with a longer eye for thicker threads)
Millinery (longer and used for basting and millinery)
Beading (very thin and long for sewing beads and sequins to fine fabrics)
Thin wire needle threaders aid in threading smaller needle eyes or using thicker threads.
Thimbles: Made of steel, plastic, bronze, sterling or leather, this is a must to prevent injured fingers. Metal-tipped, breathable leather thimbles surround the finger and flex as it bends.
Machine Needles: Universal (general sewing) Sharp or Microtex (tightly woven fabrics) Ballpoint (knits and tricots) Stretch (knits) Twin or Triple (decorative stitching) Metallic (accommodates metallic threads)
A needle holder helps insert needles effortlessly.
Straight Pins: Use sharp pins for wovens and ball pointed for knits. Round glass heads as opposed to plastic ones won't melt when pressing. Common pin length is 1 ½". Stainless steel shafts eliminate rust marks often due to humidity or steam pressing. Fine, sharp silk pins omit many pin marks. A telescoping wand with a magnetic tip will quickly retrieve dropped pins and needles.
Pin Cushions: The most common ones are cotton- or emery-filled "tomatoes". Wrist, felted wool and magnetic are some other samples.
Seam Rippers: These are generally plastic or metal handles molded around a thin blade that can slip under, cut and remove stitches.
Tweezers: Ones with longer handles and bent tips can help remove stubborn cut stitches or grasp threads from areas where fingers are clumsy, such as sergers.
Purchase the best tools and notions you can afford, treat them with respect and enjoy a lifetime of service.