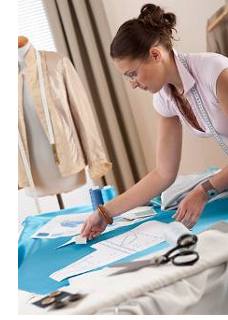 Modern commercial sewing patterns bear little resemblance to the Schnittmuster Bogen patterns first available in the Victorian era. Patterns were printed ten to a sheet on top of each other resembling a huge tangle of lines without instructions or cutting layouts. To make matters worse, they were all a size 36. Seamstresses would trace the chosen design and cut it out with large seam allowances for fitting purposes. The patterns we use today have clear and concise cutting layouts, construction guides, fabric suggestions and different view numbers of the styles included in each envelope.
A complete and varied group of sizes can be found in a single envelope of multi-sized patterns ranging from three consecutive sizes, such as 10,12,14 or XXS-XL (extra small-extra large) or larger. Having several sizes included is not only cost-effective, but it enables a sew-er who may require two or more sizes for a perfect fit to blend the pattern pieces together with less effort. Multi-sizes in the Extra Small to Extra Large and up ranges use the largest number in each category as the determining factor when choosing your pattern size. Ex: If a Medium lists 36"-38" as the bust measurement and your high bust measures anywhere in that range, you would choose the medium and adjust accordingly if necessary. Patterns drafted with many or complicated style lines are rarely, if ever, multi-sized.
It is advisable to highlight the cutting lines that will be used then trace the pattern onto tissue or pattern paper leaving the original pattern intact. Take care to mark all notches and symbols located on each pattern piece. These can be circles, squares, triangles, grain lines, sewing directional lines, hem lines, etc. (See Guidelines 3.110 and 3.111 for graphics.) Multi-sized patterns usually don't include seam allowances that must be added to all pattern pieces. The amount to be added will either be written on the instruction pages or on the pattern itself. There are tools available to ensure a perfect seam allowance by running them along the pattern while a parallel section of the tool traces the end of the seam allowance. Using a ruler or tape measure can be just as accurate, but more time-consuming. A standard tape measure is 5/8" wide and a convenient device for this purpose.
When cutting out the paper pattern, it is advisable to cut larger margins around all sides, especially side seams and sleeve seams. When a small amount is sufficient to add what is needed for a good fit around the body, that amount can often easily be added into the side and sleeve seams. The extra margin of paper will already be there for the addition. If the pattern has a piece to be cut on the fold of the fabric, such as a center front or back, trim that part of the pattern leaving at least a ¾" margin of paper. When the pattern is laid on the fabric, the extra margin will hang over the fold line helping to keep the pattern from tearing easily while ensuring a very straight and accurate fold line. Before altering a pattern, press all the pieces with a dry iron on medium heat to smooth wrinkles. Use highlighters, colored pencils or pens to remark darts, pleats, etc. that have been altered to avoid confusion when transferring these alterations to the cut fabric.
Tip: Once a pattern is adjusted to perfection, sandwich a piece of plastic such as a dry cleaner bag between the pattern piece and a piece of tissue paper. Protect ironing board and iron with silicone press sheets and press the "sandwich" until all are bonded. This will render the pattern almost indestructible for many future uses.