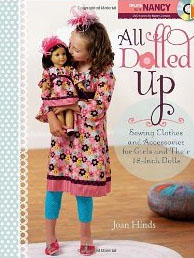 Nothing's quite as cute as a little girl dressed up in an outfit to match her dolly, and author Joan Hinds offers up 20 different coordinating outfits in All Dolled Up. Whether you're looking to clothe your duo with dress-up garb, casual wear, pj's or accessories, there's something for all occasions. Most of the doll clothes can be done in about 30 minutes. Full-size patterns are included for many of the child-size garments and for all the doll fashions.
In addition to the text and colorful photos, this book is part of the Create with Nancy series, so it includes a bonus DVD with additional tips and techniques. There are also tips from Nancy Zieman throughout the text.
Many of the garments in this 128-page book are simple enough even a child could do them, so it's a good way to teach a young person to sew. 128 pages.