Maggie's Custom Design Tutorial for Sewing a Gift Bag from Recycled Materials
Maggie's Corner is about learning to live a more sustainable lifestyle. We are about sharing information with the public to bring together like minded folks who enjoy sustainable living ideas, crafting, sewing, recycling and re-purposing.
Check out our site: Maggie's Corner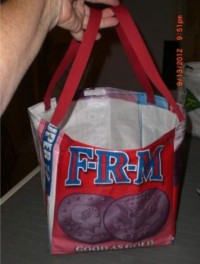 Gift bad made from recycled grain bags. I use Bernina #100 needle and Coats and Clark 100% mercerized thread.
9″ x 9″ x 10″ finished size.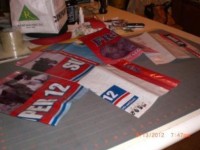 Cut material being mindful of the design you want to achieve.
Cut four pieces about 10″ x 12″ for side pieces One piece about 10″ x 10″ for bottom.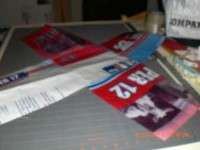 Sew sides to bottom and top stitch inside seam.
Sew side seams together.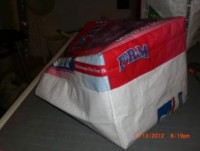 There is a 2″ hem at the top and about 1/2″ side and bottom seams. I use clothespins instead of pins.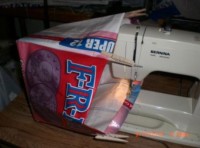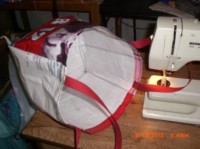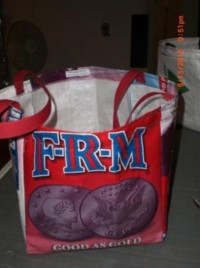 Handles finished about 20″ or whatever desired.
Tell us in a comment: How do you incorporate sustainable living into your sewing creations? Winner will be announced Saturday, October 27.
a Rafflecopter giveaway

Text and images Copyright © 2012 by Margaret Lieterman, Maggie of Maggie's Corner Nonprofit Corporation, all rights reserved. No pattern may be reproduce or distributed – mechanically, electronically, or by any other means, including photocopying, without written permission. Finished products created with this pattern may be used for commercial sale. It is appreciate if design credit would be given to Maggie of Maggie's Corner Nonprofit Corporation is listed in finished products.