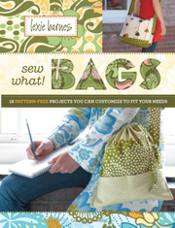 I don't know about you, but I LOVE making bags…they don't require any alterations or fitting, and I'm always pleased with how professional the results are. Recently, I received three new books about bagmaking and wanted to share them with you.
Sew What! Bags, by Lexie Barnes, offers 18 pattern-free totes. Geared with beginners in mind, the opening chapters cover sewing basics, tools, fabric options, basic machine stitches, etc. But then the text moves into making the projects themselves, from eyeglass case to mapsack, wristlet, market totes, sacks and organizers. The book is filled with great color photos and detailed step-by-step illustrations for each project. If you're a seasoned sewer, there's clever inspiration, but if you're a beginner, or teaching someone to sew, this book is an ideal tome.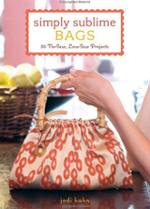 Simply Sublime Bags, by Jodi Kahn, is a bit off the wall–making bags and totes from unusual things like placemats, welcome mats, tablecloths, duct tape, pillowcases, T-shirts, mailing envelopes and a host of other oddities one would seldom thing of for carryalls. It's fun, innovative and all 30 of the bags make you want to go "How fun is that!" Directions are well illustrated and simple enough even for beginners, but intriguing enough to keep the interest of more experienced sewers as well.
Sew & Stow, by Betty Oppeneheimer, offers up 31 ideas for all kinds of stowables, from tote bags to organizers, tool kits, wood carriers, etc. plus some allied projects like a shower curtain, swim wrap, hammock and dog bed. The two-color illustrated format works well, as project directions are separated from their well-styled color photographs. Lots of good basic sewing information included for beginners as well.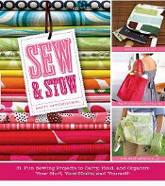 My favorite tote bag tip–cover plastic canvas with fabric to use as an inside bag bottom support. It's totally washable and helps any bag keep its shape during use. Look for it in the needlwork section of your fabric or craft store–the tighter the weave, the sturdier it is.
If you're looking for bag and tote ideas without buying a new book, check out the 18 free patterns on the Sewing & Craft Alliance's Purses, Bags and Totes project pages. And spend some time this summer with any or all of these fun bag/tote resources–they're sure to inspire you.