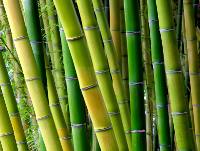 Just a few years ago, Earth Day meant something different to me than it does now. Maybe it's the reports of melting glaciers and disappearing rainforests — or maybe it's just the economy, but Earth Day no longer means to me a day spent making recycled tote bags. (Really, are you as overrun with tote bags now as I am?)
I've actually become quite fascinated with the creativity and new products that have sprung out of "Earth Day." I like the new cleaning products that don't have me running for an open window and I'm absolutely obsessed with the idea of installing a cork floor in my home (it's warm and soft and no, it doesn't look like your grade school corkboard with the picture of David Cassidy tacked to it). I also love the idea of using empty juice boxes to make raincoats, empty coffee containers to make purses and old sweaters to make gorgeous jackets (see the Reuse, Remake, Restyle entries for National Sewing Month 2009). This is more than earth-friendly, this is fun!
But, when it comes right down to it, I want to SHOP. I like buying new and I've been surprised by the organic and/or eco-friendly options that are available to fuel my creative passions. For example, I had no idea that bamboo fabrics and yarns can be so wonderfully soft. Or that spray adhesives don't have to be toxic. Even vintage patterns – often from somebody's back-of-the-closet stash – are back in vogue (see the Winter 2010 issue of ASG Notions Magazine). I'm also fascinated by Tagua buttons, made from the nuts of palm trees from Ecuador, that are absolutely beautiful and after being sliced, drilled or carved, don't look anything like their original form. And I've been told that coconuts are used to make great buttons as well (okay, well now I want a Piña Colada).
The whole point is that no matter what your motivation, the choices we have are ever expanding.
So, what have you been doing?
Susan tell us that she is reusing old jeans to make a purse. She's using the lower legs for the body and has cut one side front pocket and the zipper area, leaving enough extra pants material to make two outside pockets for the purse.  She's also using more jeans to make a quilt for the beach.
Patty is making an afghan from bamboo yarn. She says it's soft but reports that it will need hand-washed.
Barbara is using felt made from recycled plastic to make dolls for her grandchildren.
As for me, I have my heart set on a new duvet cover made from bamboo fabric. One of these days, it will go nicely with my cork floor.