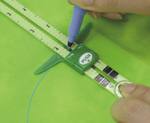 It's not everyday that I get really excited about a new sewing notion, but today one arrived at my door that I'm quite smitten with. It's the new Clover 5-in-1 Sliding Gauge, designed by Nancy Zieman. This handy tool does the basics of measuring and spacing buttonholes, but the two things I find great about it are that the slider locks in place, so it doesn't slip while you're trying to mark or measure, and secondly, it offers the capability of a compass.
The compass or arc drawing is accomplished by using the small wheel on the lower end of the gauge. There's a center hole where you place the pin or awl (this becomes the center of the circle), and then you place the pencil point through the hole in the slider once it's locked at the radius you want (numbers are marked on the gauge as well). Then rotate the ruler as you draw a perfect arc or circle. If this doesn't make sense, note that the tool comes with clear instructions!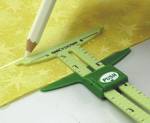 The only thing about this nifty notion is that you must remember some basic high-school level math…the difference between a radius and the diameter. (Hint: the radius is half the diameter. Whew–how long has it been since I had to say that formula?)
So, if you're looking for a great stocking stuffer for your own list, or something fun to share with sewing friends, this is a wonderfully worthy find!