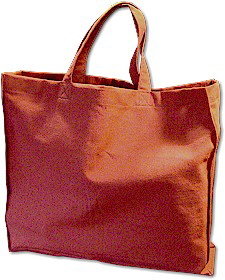 Most sewers I know are incredibly frugal–we are bargain hunters down to our toes. Whether shopping at thrift stores (of course in addition to fabric stores) or simply reusing things we have for another purpose, it seems like the right thing to do, not only for the budget, but for the earth as well.
Next week (April 22) is Earth Day, and there's much you can do to help this celebrate. One easy thing is to quit using plastic shopping bags from stores, as they end up in landfills and stay there for years. Make some simple tote bags instead, either from ripstop nylon (sturdy for groceries), or from your favorite fabrics. Try our Eco-Friendly Tote Bag project (compliments of Marcus Brothers). Keep the bags in the car for your shopping adventures, and remember to take them in the store with you. It's become second nature for my husband and I. Living in Oregon, we're surrounded by eco-minded people and businesses–a few even reward us for bringing our own bags, and some businesses now charge extra if you don't.
Now's also a good time to investigate earth-friendly and sustainable fibers like bamboo, hemp and other options. Most fabric stores, and certainly many online sources, offer these alternative fibers and fabrics at increasingly economical prices. There's nothing as comfy as a lightweight bamboo knit garment.
Don't forget to clean out your sewing room and give things you no longer need to worthy causes. Project Linus accepts donations for their quilt projects made for needy children, and American Sewing Guild chapters nationwide always need fabrics and notions for their charitable sewing ventures. Check with a chapter in your area to see what you can repurpose, and give yourself more room, plus a good feeling from helping others.
So, honor our precious Earth and plan a sewing-related activity!