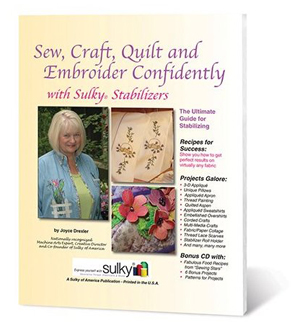 The world of stabilizers isn't cut and dried and, in fact, myriad versions have been added in just the last year or so. There are cut-aways, heat-aways, tear-aways, wash-aways, fusibles and on and on–but what do all these terms mean and when should you use what for your projects? Are stabilizers just for embroidery, or do they have other uses as well? Sew, Craft, Quilt and Embroidery Confidently with Sulky Stabilizers helps to answer all those quandaries.
Yes, it is specific to one brand, but the information is like no other found in one single place. In addition to defining each stabilizer type and its characteristics, the book details where and how to use it, even down to a recommended thread type and size, and the appropriate needle.
Filled with project ideas from appliques to thread lace scarves, and corded crafts to embroidered sweatshirts, this book is sure to have you grabbing for the Post-Its to mark what you'll want to try next.
In addition to the projects in the book, the accompanying CD has 6 bonus projects, and all the patterns. As if that's not enough, there are also some recipes from the sewing stars whose works are featured in the book! 200 pages.