This past weekend I had the pleasure of presenting an all-day workshop for the Salem, Oregon American Sewing Guild group–the topics were Inkjet Fabric Printing and Needle Felting by Hand or Machine.
I LOVE teaching (OK, I might have mentioned this in an earlier post)! It's not just the sharing of the skills, but also the energy that develops when sewers are together–in this case 45 of them in one room. You can see from the photos that the students were intent on their felting work, as their samplers had to be done before lunchtime because another presentation was coming their way.
On the flip side, I also love going to classes, no matter what the topic (I try to avoid exercise classes, but almost any other subject is fair game). This year I've taken classes on jewelry making, chocolate truffle making, CSI and creative closures for sewn garments. No matter how smart you think you are, there's always something to learn from the teacher and other class members. Between my two ASG classes was a wonderful presentation on apron history.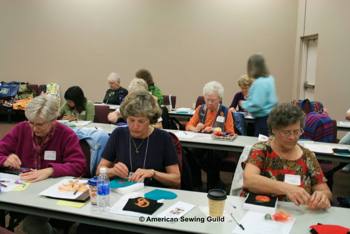 Perhaps you too love teaching, and you also love going to classes. If your not sure about selecting classes, check out this Sewing & Craft Alliance Guideline How to Find a Sewing Educator for some great ideas on where to look and questions to ask before you get there. Thorough research will assure that you get the information you expect. If you're a teacher, check it out as well as it offers some helpful hints for class preparation.
The ASG event where I taught also had a "craft market" where members could rent a table to sell their wares–from scraps and fabric "overstocks" to patterns and finished projects. I actually had two tables to sell some of the projects I've made for magazine stories and then they're returned to me. They pile up in my storage room with no future use, so many of the guild members did some early Christmas shopping. If you're a guild member, think about this idea as a group activity–everyone benefits from the sales and things go to an appreciative home.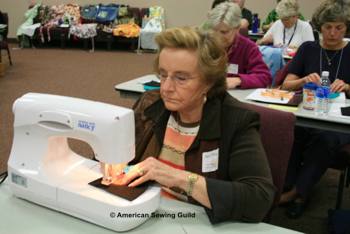 If you have ideas for other successful sewing events, send them my way and I'll share them in future entries.