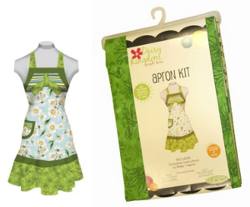 The next National Sewing Month giveaway is this bright and fun Apron Kit from Springs Creative. The kit includes the fabric panel with printed instructions to make the apron.
I've loved to cook and bake since I was little and I've always been a rather "free spirit" in the kitchen. And by free I mean messy. I love aprons! Aside from keeping me clean, they seem to ground me in my project. And this apron makes me want to bake an apple pie!
All you have to do to enter our giveaway is to complete the 2011 National Sewing Month survey.
Daisy Kingdom offers a wide range of products – a fabric line, pattern designs for Simplicity and craft kits. Daisy Kingdom products can be found online at Amazon.com and hancockfabrics.com as well as in Michaels and Hancock Fabrics, as well as retail stores and online outlets. See the full line of Springs' products at www.springscreative.com.
Congrats to Kathee Tooher, winner of the Springs Creative Apron Kit!