As National Sewing Month draws to a close, I hope you've used your skills to help teach someone to sew, perhaps helped a community group like Project Linus or the Girl Scouts, and that you've enriched your own repertoire of sewing expertise by reading some really good books. If you haven't gotten around to the latter just yet, let me recommend three that are great fun, keeping in mind that our love of fabric spans many other crafts in addition to garment making.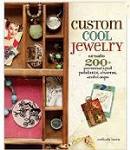 If you enjoy using common crafting materials in uncommon ways, check out Custom Cool Jewelry, by Melinda Barta. Pendants, charms, beads and stitched fabric pieces will send you to your stash for just the right findings. And there's lots of opportunities to expand your knowledge base if you're a novice jewelry maker by learning about the various types of clasps, hardware, tools, etc. Over 200 projects fill this colorful tome.

Once you've created some fun fabric jewelry, wrap it up in style by following the illustrations and photos in Wrapagami, by Jennifer Playford. It's all about fun ways to wrap gifts with fabrics, derived from the Japanese tradition called tsutsumi. The innovative cloakings are the perfect way to showcase beautiful fabrics, and the recipient can also reuse the fabrics for another purpose. The twists and ties are easy to do and the intrique is ever so fun with these 25 ways to wrap.

Think outside the box to the world of dollmaking with Cloth Dolls for Textile Artists, by Ray Slater. This book details not only the structural insights for creating bodies, faces and clothing, but also information on a wide range of textile techniques from embroidery and stenciling to felting, stamping and dyeing, so you don't even have to be a dollmaker to learn from this colorful book. Personally, I've never made a cloth doll since early childhood, and that one certainly didn't have the finesse of those shown in this book. But, after reading this, I'm intrigued to give it a try. Who knew I'd someday be forming wire armatures wrapped in colorful threads and braids, then making clothes with more details than many of my own?
There are so many great fabric, sewing and embellishment books out there today that it's hard to pick just one, so share with your friends and expand your knowledge base continually–it keeps your brain from getting rusty, as my mom used to say!