Written by Katrina Casey of www.edelweisspatterns.com
Hello, Sewing Ladies & Gentlemen!
I was very excited to be asked to participate in the National Sewing Month celebrations, and I'm thrilled that there is such a growing interest in sewing right now! America's rise from a tiny country to the great nation that it is was due in part to the brave pioneer women who stood behind it, and who sewed for long hours to fashion handmade clothes for their children, heirloom quilts for warmth, and even the occasional bustle gown to keep up with fashion way out on the prairie! Of course, it was not only those devoted women who made sewing thrive in America – it was also the upper class Victorians who spent hours embroidering tea towels, the professional seamstresses who turned their hobbies into careers, and the frugal housewives of World War II who stitched dresses out of feed sacks!
The sewing legacy in this country is truly remarkable, and I think it's fabulous that many of the younger generation are carrying on this once-forgotten skill of sewing your own clothes!
My real passion in sewing is designing patterns from vintage styles – particularly those gorgeous dresses portrayed in "The Sound of Music". There is something so lovely and refreshing about charming dresses with fitted bodices and twirling skirts, and the von Trapp styles inspired me to design my own pattern line, fittingly named Edelweiss Patterns.
The first pattern I released, "Liesl's Dancing Dress" , was such an enormous success that I was convinced there was a market out there for this style of vintage dress patterns! Since that first pattern release I have continued to design more "von Trapp" inspired clothing patterns, and this project has been an absolute joy to work on. Whether women need these dresses for Sound of Music productions, or whether they're just Liesl fans who adore the late-1930s styles, these patterns come in handy for making memorable dresses that are instantly recognized from "The Sound of Music".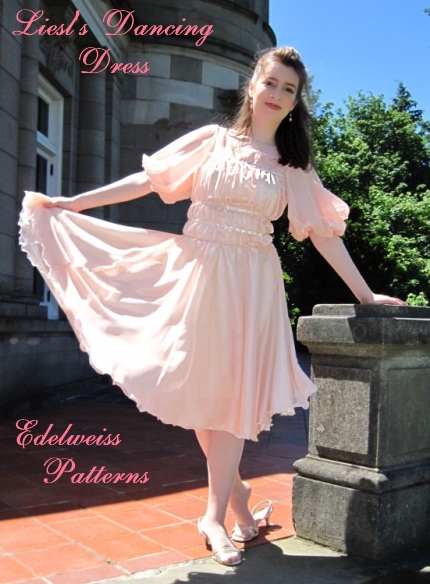 To date, I've also released Baroness Schraeder's Evening Gown, an elegant formal dress inspired by the highly fashionable Baroness, which just begs to be worn with a tiara!

The next design, Maria's Gazebo Dress, is a dreamy concoction of fluttery chiffon sleeves, smocking or shirring at the bodice and waist front, and a flattering belt to cinch in the waist. This pattern was so much fun to work on, and I think it has a much more 1930s look to it than some of the other costumes Maria von Trapp wore!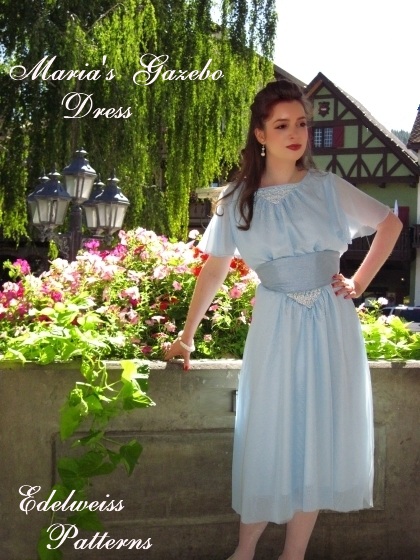 By popular demand, I released a little girls-sized version of "Liesl's Dancing Dress" for those girls who have always dreamed of dressing like Liesl von Trapp, but who aren't quite big enough to be "sixteen going on seventeen". This pattern comes in girls' sizes 3-12, which gives you the option to make mother-daughter or big sister-little sister Liesl dresses for any occasion!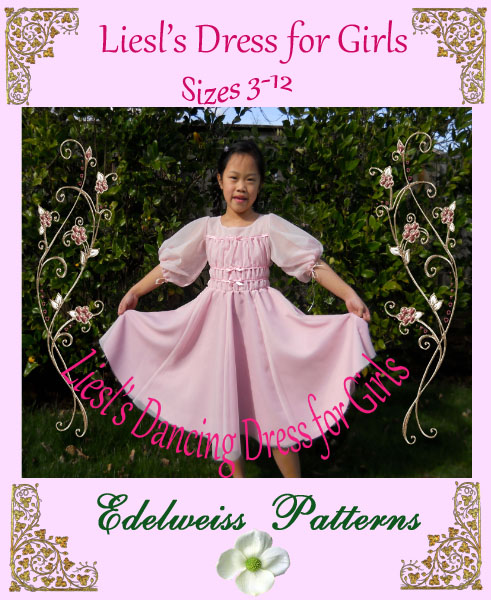 At the moment, I am currently working on my latest women's design of "Liesl's Party Dress". This frock is probably the most versatile pattern I've designed yet, as the full gathered skirt and fitted bodice could really pass for 1950s style just as easily as the late 1930s. Pictures will be coming soon to my website , but I'll just tell you that it has organza puffing at the collar and sleeves, optional pearl embroidery on the bodice, and a lovely ribbon sash at the waist. Can't wait for this one to come out!
So in honor of National Sewing Month, I am pleased to giveaway one of the Edelweiss Patterns designs on the National Sewing Month blog! To enter the giveaway, simply head over to my patterns page, then come back here and leave a comment after this post mentioning which pattern you'd like to win. The one winner will be randomly selected and will be announced here on this blog. You will have until Friday, September 21 11:59 EST to submit your comments.
Thank you to all who have supported the National Sewing Month celebrations, and I'd love for you to keep up with my other Victorian & vintage sewing projects on my blog .
Happy sewing!
Katrina Casey ~ www.edelweisspatterns.com
And follow me on Facebook