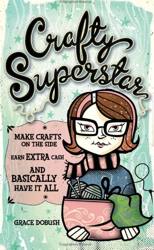 Whether you sell your sewn and crafted items on eBay, at local fairs, or just to friends, there's money to be made utilizing your talents, but most of us don't know how to make our skills work for us.
Hands-on crafter and author Grace Dobush tells us how in Crafty Superstar, a 160-page how-to for aspiring crafsters to make some extra moolah in today's economy.
Whether you're looking for information about how to get some media attention, write a press release, keep track of your business funds, develop advertising, or set up for craft sale, you'll find the great tips and tidbits of guidance in the pages of this informative book.
In addition to the wealth of knowledge contained in the chapters, there are several appendices with sample forms, crafting communities, supply resources, web sites, etc. to help you even further.
SEW-lution Tip: This book is available for your Kindle Wireless Reading Device.

Hmmm…now what will you make to sell?