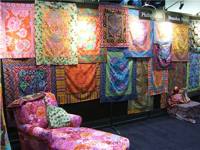 Each fall quilt shop owners descend upon Houston, Texas for the extravaganza of the season–Quilt Market. They come to buy things that they later sell to us in their stores. As a writer, I'm allowed in to look for new products and network with the various companies in attendance, so I can share their news with you in stories and venues like this. There are special media events, TV filmings, etc. that also happen at the show and perhaps you'll be seeing news about the event on your favorite sewing/quilting shows. There are ongoing demos of new products and also special events just for magazine editors and writers to learn about new products.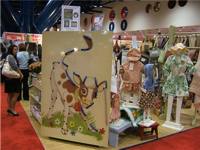 So, what's new? Look for more and more kits–for stuffed animals, clothing and quilts themselves. Kits save you the hassle (and in some cases anxiety) of picking out coordinated fabrics for projects–you just pick up a cleverly packed bag of components. Lots of great books coming out in the fall–one really helpful one is called Marvelous Miters, by Susan Cleveland–it simplifies those pesky corners not only on quilts, but the same techniques apply to garments. Susan also has a new tool for making precise prairie points.
I saw some wonderfully soft bamboo/rayon felt from National Nonwovens, and a new line of visual-assist products from Simplicity cleverly called C.C. Bigger–if you need a magnifier, check it out later this fall. Ghee's has rainbow tooth zippers that are great fun, and Clover Needlework is coming out with some new Yo-Yo Makers–a butterfly and a shamrock. Looking ahead to spring '10, an oval yo-yo maker is on the drawing board.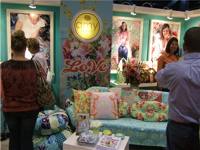 Of more costly interest, is the new Baby Lock Sashiko machine. It makes that wonderfully precise running stitch traditonally done by hand, but now by machine. There's no top thread, only a slotted needle and wire arm mechanism to catch the thread making the stitches with a bobbin thread. Check your local dealer for a demo…it's pretty darn cool!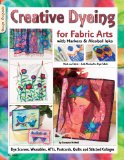 Another new book and demo I saw was on dyeing fabrics with permanent markers. Design Originals has published Creative Dyeing for Fabric Arts which explains the very easy technique of coloring with markers and then adding alcohol to blend the colors–even kids can create some wonderful things using this technique.
So, be on the lookout in the coming season for these new and innovative products.