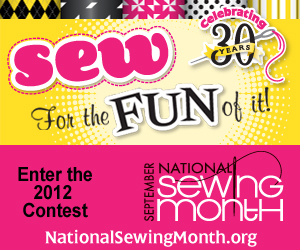 The 2012 National Sewing Month campaign "Sew for the FUN of it!" kicked off to a great start with tons of entries for our contest. Since this year's theme is all about FUN, we changed things up a bit and winners will be picked at random from all entries received. Remember, this contest isn't about technique, so don't be afraid to enter your projects. We want to see how YOU define fun sewing. If you enjoy making tote bags, submit a tote bag. If you find working on a tailored jacket fun, that's what we want to see. No holds barred! Enter the contest at http://www.nationalsewingmonth.org/html/contest.html.
If you want to promote National Sewing Month in your store, library, school, website, blog – or anywhere else for that matter – you can download totally free materials from the National Sewing Month website. We have posters, flyers, ads, web banners and more. We will ask you to fill in some information before downloading, but it's just to help us to know how everyone is celebrating this special month. If you choose to join our mailing list, you'll receive emails regarding National Sewing Month. If you say no, no worries – you won't receive any mail from us.
Enjoy the month and check back here for special posts, projects and more just for National Sewing Month. Keep on stitching!