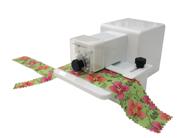 At Spring Quilt Market, a show only for industry members and shop owners, two new products were launched I know you'll be interested in. Both come from Simplicity Notions and are real timesavers.
The first is a rotary cutting machine. You simply set the width you need, up to 2 1/4″ wide, step on the pedal and voila–it zips the fabric through the rotary blade and cuts your strips evenly. A pinking blade comes with the cutter so you can created zigzag edges as well as straight ones using the standard blade. If you make an initial cut on the bias, this machine will zip out bias strips for bindings in no time. More decorative blades will be coming out soon. In addition to cutting fabric, it will also cut paper, so scrapbookers will love this one too.

The second new notion is an electric bias tape maker, destined to fold and press 12 yards of bias in 60 seconds. No more tediously trying to press bias tape into shape and burning fingertips. Several folder sizes are available, depending on the finished width you need, and the temperature of the pressing unit is adjustable for various fabrics. There's even an auto-shut-off (after 10 minutes of non-use) for safety.
Remember, it's not too early to start a holiday wish list!