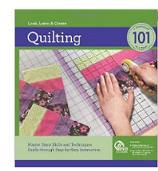 If you're new to the subjects, or just getting back into them after a long break, both these books, which are part of the Look, Learn & Create series will be helpful. Sewing 101 and Quilting 101 are written with the absolute beginner in mind, though the rest of us will find them a good reference as well. Beautiful color photography makes it hard to resist a look through all the pages cover top cover.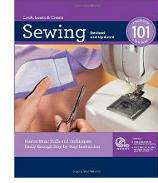 Spiral-bound so they lie flat for use at the machine, both books also come with a DVD so you "watch" the books' content for even easier learning.
The sewing book includes not only techniques, but applications  for both garments and home dec projects.
The quilting title includes basic quilting instruction, and16 projects to apply what you've learned.