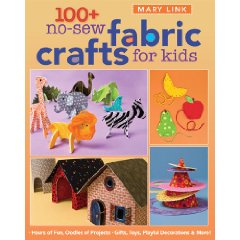 With National Sewing Month in full swing, one of the commitments we all make is to try to teach someone to sew, especially young people. If you're a mom or grandmother, that's probably an easy task for you, but if you have no children around, one needs to be a little more resourceful.
Hunt up a local group of Brownies or Girl Scouts, or a church youth group, school class or another "gaggle" of youngsters and volunteer to teach them some simple sewing projects.
Author Mary Link just published 100+ No-sew Fabric Crafts for Kids, and there are tons of ideas in this clever book, as well as full-size patterns. Very minimal sewing is involved in only some of these, and many other projects are not sewn at all, but still fabric based. She uses fusible heavy craft interfacing as the basis for the projects, which range from mobiles and games to party favors, pet accessories and small gifts for several holidays. Kids are sure to be inspired by this one.
So take a look, find some kids, and start to play…teaching them some simple skills that could change their life.