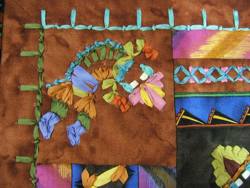 I just returned from Minneapolis where thousands of quilt retailers, designers and industry icons gathered for Spring Quilt Market, a trade show for quilt store owners. For days I was surrounded by beautiful art quilts, new designer patterns and all things quilter-ly.
Market is where store buyers go to purchase the things that you see in their shops–they're buying fabric lines, patterns, giftables and all kinds of notions, rulers, zippers, etc. In my way of thinking, it's a hard job to pick out what to buy from the thousands of new items available, and with limited budgets as well.
The good news is that the number of exhibitors was up this year and over 10% of the vendors were new. It's always fun to chat with new people and learn about what they do for our industry.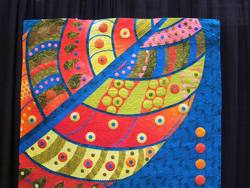 What did I see as trends? Eco-friendly consciousness–from fabric fiber content to handles on tools going from plastic to bamboo. Look for lots of cute animal prints and cartoon-like imagery–lots of owls it seemed. Also, lots of mini-sewing patterns and kits, so that you can "grab and go" at the store, picking up exactly what you need prepackaged. What a timesaver, and also a confidence builder so you don't have to mix and match fabrics–it's been done for you.
One of my favorite parts of Quilt Market is looking at the displays of wonderful quilts and garments. It's always one of those "why didn't I think of that?" moments.
If there are quilt and sewing shows in your area that are open to the public, be sure to attend–it's definitely a great source of inspiration and a way to recharge your creative batteries.