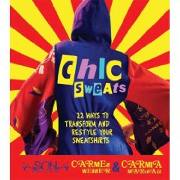 Who doesn't love the comfort of sweats–they're soft, they always fit no matter what, and they're warm? Sweats can be dressed up with the right accessories, or simply left as-is for at-home appeal.
But authors Carmen Webber and Carmia Marshall have taken sweats several steps toward real fashion in their latest book Chic Sweats. Personally, I'm sometimes skeptical of "re-do" books as the results often look contrived to me, but these styles offer some fun touches that all begin with the humble sweatshirt. It's well written and cleverly illustrated with not only fashion images, but step-by-step how-tos, all drawn by one of the authors.
If you're a beginner, there's good information to get you started, and if you're an experienced sewer, it doesn't disappoint as there are some more-than-simple modifications as well. Unlike some re-do books, this one finishes seams and edges on most projects, and uses standard sewing techniques we all appreciate. There's teen appeal as well as things of interest to sewers of all ages. This book is a good read and a keeper in my opinion!