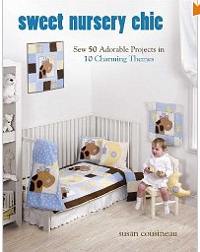 If you're a doting grandmother, a new mom yourself, or a friend looking to create a wonderful gift for a new baby or toddler, you'll love Sweet Nursery Chic by Susan Cousineau.
This whimsical book contains 50 projects in ten themed categories. Look for frogs, bunnies, lambs, butterflies, monkeys, alligators, stars and moons, giraffes, lions, princesses and cupcakes as the focal points of the project collections.
Projects include quilts, blankets, pillows, bibs and wall hangings within the themed areas.
An extensive full-size pattern section provides the whimsical shapes, and the text gives step-by-step instructions for each project within. In addition, there's great basic information about selecting fabrics, appliqueing and embroidering. A well-illustrated section shows basic hand embroidery stitches for reference as well.
The tips for planning a baby shower and how-tos for wrapping and displaying gifts makes this a one-stop resource for moms to be and their friends.