Welcome to the SEW-lutions blog from sewing.org and the Sewing & Craft Alliance! We are so glad you're visiting our little part of the blog world and are delighted to introduce our featured blogger – sewing enthusiast, author, designer and former Sew News editor, Linda Griepentrog. We've missed Linda's wonderful magazine editorials offering advice, new product info and sewing humor and we were thrilled when she accepted our invitation to become a part of the Sewing & Craft Alliance team. Linda will now be back in your sewing room sharing the fun and answering questions, telling you about things she's working on and providing insight into new sewing products, books and other happenings. If you have a question for Linda, follow the Ask Linda a Question link in the Blogroll and then watch the blog. We can't guarantee that all questions will be answered but we're sure she will be providing SEW-lutions to as many of them as she can.
Thanks for visiting!
Joyce Perhac
Janice Blasko
Sewing & Craft Alliance
Every creative dream has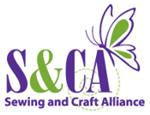 a SEW-lution. Find yours at www.sewing.org!