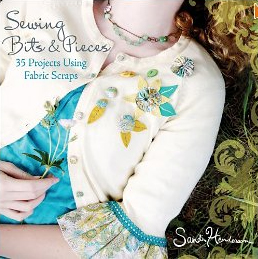 Like most sewers, you probably have a lot of scraps sitting around for "someday" when you think you might need them. If you're diligent, scraps can get used regularly for quilts, covered buttons, yo-yos and other small places where just a bit might be needed. If you don't remember you have them, scraps can linger for years without seeing the light of day!
Sewing Bits & Pieces: 35 Projects using Fabric Scraps will have you clearing out those scrap bins in no time. Look for appliques, magnets, food bags, pieced pillows, sachets, a host of kids' clothes and accessories, stuffed toys, party lights, head scarves and many other ideas in this colorful book by Sandi Henderson, a fabric and pattern designer. 172 pages.
If your scraps are bigger and stored as fat quarters–a quilter-ly term for pieces that are 18″ x 22″, your world opens even wider. Small Stash Sewing…24 Projects Using Designer Fat Quarters uses these generous "scraps" for belts, handbags, pillowcases, necklaces, scarves, simple quilts, basket liners, photo frames and lots of kids' accessories. You'd never dream that they're all made from fabric pieces this size. 138 pages.
So get reading and turn those scraps into something smashing!
SEW-lutions tip: Interested in making yo-yo's? See our free SEW-lutions Guideline #9.265 for instructions.