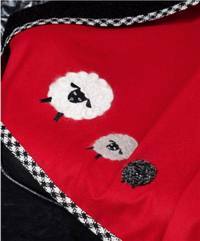 I'm getting ready to teach a workshop this weekend for the Salem, Oregon American Sewing Guild chapter–it's a day-long event on needle felting and fabric printing, two topics I'm familiar with from writing books on them. I've got lots of kits to put together and handouts to create for the group, but I do LOVE teaching! It gives me a real thrill to turn someone on to a new skill, and to show them how easy it can be.
If you're a teacher, you probably understand that feeling. If you're not a teacher, but you've thought about it with trepidation, I've got an idea for you. The Trained Sewing Instructor program, www.TrainedSewingInstructor.com, can help you out. It's a 3-day intensive workshop designed not only to help with actual teaching skills, like developing lesson plans and handouts, but also to teach you about education as a business. They even offer sessions on what to teach, as well as how to teach!
When I started my own business, a wise friend gave me a plaque with this saying–"I'm a business, not a charity." It hangs above my desk and every time I'm even the least bit tempted to sell myself short and not ask for what I'm worth, I stare at the saying. The Trained Sewing Instructor workshop will help you develop that same confidence in your skills. Plus, when you've graduated, you can be listed on the Sewing & Craft Alliance's searchable database of certified educators, so store owners and groups will seek you out.
So, don't let the thought of teaching put you in a cold sweat–it's great fun, and being smart about the process allows you to run your own business, which of course leads to many other opportunities, and provides money to fund our fabric addictions.
There are two Trained Sewing Instructor sessions coming up–one October 23-25 in Philadelphia, and another in San Antonio January 22-24. The Texas location is in conjunction with the Creative Inspiration Expo, so you can visit the sewing show as well.
I know it's too early for Christmas gifts, but a workshop like this is a present you can give yourself. If you don't think that's appropriate, then ask your someone special to consider gifting you with one of these valuable sessions. The rewards are many, and not just financially.