Did you know that Friday, October 3 is National Denim Day? Orchestrated by Lee, the jeans company, it's designed as a fund raiser for breast cancer research. The plan is simple—donate at least $5 to this effort and you then wear your jeans to work on that day.
For me, since I work in my home office, almost everyday is denim day, with sweatpants day in between! But I do plan to make a donation for this worthy cause. For more information on National Denim Day, see www.denimday.com
Research from Cotton Inc. shows that the average American owns 9 pairs of jeans! Seems a bit excessive, but they also say that worldwide over 94% of the people own at least one denim item. So, everyone loves denim!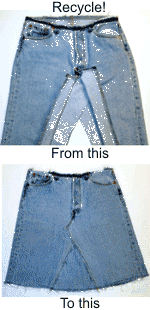 Just check at your local fabric store and you'll likely see umpteen kinds of denim—not only the traditional blues, but also black, multiple colors, and multiple variations—some with stretch, some distressed, others shot with metallic threads.
Whether you're sewing a new denim item, or recycling one of those 9 pairs of jeans, here are some handy hints for sewing:
Use a denim or jeans needle with a sharp point to penetrate the dense fibers
Finish the seams with serging or zigzagging to prevent raveling
Pre-wash the fabric, as denim shrinks repeatedly
For more hints, see Denim Blues, a Sewing & Craft Alliance Guideline
If you need ideas for denim projects, check out the following free projects on sewing.org, from a jeans skirt to a fun organizer:
From Simplicity – Make a Jean Skirt or Tropical Jeans
From Wrights – Elegant, Dressy Cargo Jeans
From Coats & Clark – Denim Organizer
Remember, sign up to wear your jeans to work on Friday and donate to a very worthy cause!