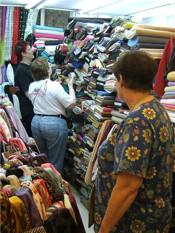 I recently returned from Hong Kong where the fabric shopping was just as great as ever–from street vendors to department stores and a few unconventional venues as well, like the shanties covered in tarps and metal sheets where cashmere awaits for about $5-8 per yard, but only for the adventurous who enter. The alleyways are filled with treasures and the Sham Shui Po district seems unending–burgeoning with trims, buttons, notions, etc. beyond your imagination.
With a group of 17 people on this year's American Sewing Guild journey, we were always anxious at day's end to see everyone's goodies and find out where they were purchased in the noted district, akin to NY's garment district. Among other things, I bought quite a bit of interfacing this trip–60 inches wide and less than $1US per yard (and yards are measured generously there).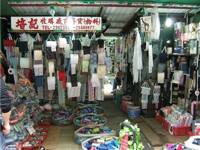 If you're interested in the next excursion, mark your calendar for November 30, 2010 and save your pennies in the interim. Hong Kong will be decked out for the Christmas holiday, and there are lots of special sales that time of year. To sign up for tour registration information when it's available, go to the American Sewing Guild site and enter your e-mail address. In the interim, when someone asks you how fabric shopping is in Hong Kong, simply say ho-ho-ho (that's Chinese for very good)!