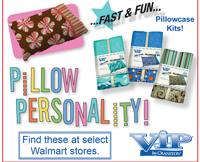 Our thanks to our newest sponsors for National Sewing Month 2010:
V.I.P by Cranston – Cranston is a favorite supplier of quality fabrics for sewing, quilting & crafting projects. Check out their new Pillow Personality kit, available at select WalMarts. Make a pillowcase for yourself or donate your creations to local shelters, hospital wards and nursing homes. Find out more at www.CranstonVillage.com.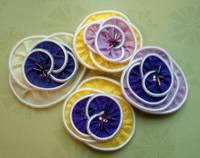 Linda McGehee from Ghee's – Linda will be sharing some great ideas for accessories using her fun new zippers. You'll never look at zippers the same way again! Start off by trying her zipper pansy project, made with paper zippers. Visit the Ghee's website at www.Ghees.com to purchase zippers and other great products.
If you're interested in becomgin a sponsor of National Sewing Month, let us know.