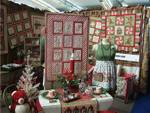 I just returned from Pittsburgh where the spring version of the infamous Quilt Market was held. It's not open to the general public, but only to store owners, buyers and the press (me!). Companies are debuting their new fabric lines and products for quilters, sewers and crafters…many of which won't be available in stores until at least fall. It's up to store owners to decide what to buy in hopes that you and I will then love it (and of course, buy it) when it hits their stores.
Because things are being shown for fall launches, there are always holiday patterns and fabrics showcased. So even though it's spring, some booths were decked out in red and green and you'd expect snowflakes to fall.
In addition to holiday offerings, there are always a wealth of new products to tempt. One of the most fun things I found this year is a fabric called Texture Magic, offered by Superior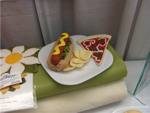 Threads. The "fabric" shrinks 30% when steamed, thus shrinking and texturizing the fabric it's been quilted or stitched to. As a complement, there's a line of Patterns by Annie designed specifically for use with the product.
Fabulous felt food looked good enough to eat at National Nonwovens booth. Hard to believe it was sewn from fabric!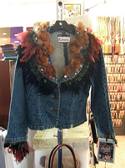 Nancy Zieman has new tote templates and also a fusible piping product set to debut in the summer with Clover–no more wrestling with the fabric to evenly cover piping cord.
There were lots of embellishments, as always, including wonderful feather trim from Expo International showcased on a denim jacket made by designer Stephanie Kimura.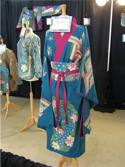 Quilt Market always features lots of exhibits of award winning quilts and this year was no exception. The Hoffman Challenge winning garments were also on display, garnering oohs and aahs from onlookers.
Watch for more info here–as new products I saw at Market become available, I'll write about them for you.