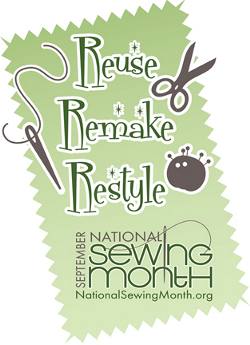 Reuse, Remake, Restyle – that's the theme of the 2009 National Sewing Month celebration. National Sewing Month is co-sponsored by the Sewing & Craft Alliance and the American Sewing Guild and is a month-long celebration of the art and craft of sewing. All through September, sewers from across the country will be attending classes, workshops and special events to share their passion for sewing.
This year's theme addresses our economic concerns as we all stretch our spending dollars but, more importantly, it speaks of our creativity and our desire to sew green. Instead of sending tired or worn-out clothing, tablecloths, curtains or bedding to the landfill, stitchers are turning trash into one-of-a-kind treasures. Antique pillowcases are becoming little girl dresses; 40 lb dog food bags are becoming handy tote-bags; juice boxes become fabric to make a backpack and drapery sheers become a sexy shawl to wear over the perfect black dress.
Don't get me wrong – we're still shopping! We just shop with a different focus these days. Now when we walk the aisles of the fabric or craft store, we see trims that can change a boring pair of blue jeans into a trendy fashion statement. We see fabrics that will make the perfect heirloom quilt – designed around a daughter's favorite skirt that no longer fits. We see adorable animal patterns that will make a fun stuffed toy cut from a worn-but-still-treasured baby blanket. And we see embroidery machines that can add an unexpected design embellishment over a hole in an otherwise perfect garment.
We've  reached a new wave in creativity. Reports show that sewing is popular once again. Sure, Project Runway designers have played a part in reminding us about what it feels like to say "I created this." But thousands of others do it every day as well. From grandmothers who still lovingly crochet pastel afghans for new family additions to sewing instructors who develop unique classes, the opportunities for creativity are all around us. Stay-cations – the new way to relax without leaving your home – include trips to sewing  stores where to-die-for samples made with fab new fabrics matched with unexpected patterns keep us in our sewing rooms the rest of the week. There's teens who inspire each other and we're seeing more schools putting sewing back in to their curriculum. While we still may sew sometimes  out of necessity these days, we're also sewing for the sheer joy of it and for that wondrous feeling of accomplishment. Sewing is truly a window to our creative souls. Happy Sewing Month!
If you'd like to read more about the history of this celebration and the original proclamation, visit the National Sewing Month website.