I'm often asked about sewing reference books–there are many on the market and chances are you'd like to keep a few handy for those times when you need a little refreshing of some infrequently used skills, or if you're trying to teach someone to sew, including yourself.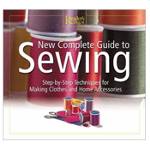 My favorite sewing reference book of all time is the Reader's Digest New Complete Guide to Sewing. It's packed with clear illustrations on virtually any technique you can imagine! The latest edition now has color photos, for enhanced learning. The revised version includes some machine technology changes, but the older version is still worthy for the basics.
The Vogue Sewing Book is also a favorite for tailoring and couture techniques that are sometimes omitted from other references.
Two recent additions are also extremely helpful. A to Z of Sewing offers a handy alphabetical content of everything from applique to zippers, and lots in between. With a combination of step-by-step photographs and line drawings, the text detailing is easy to see and understand.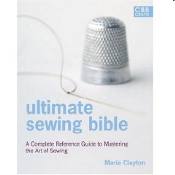 The Ultimate Sewing Bible, by Marie Clayton, combines both home decorating and fashion sewing expertise into one 320-page volume. Lovely photos and illustrations clarify the words in fine style, and some projects are included as well, if you need to put the detailed skill sets into practice. A helpful glossary is good for beginners.  First published in Europe, there are some vocabulary crossovers to learn–for example, underlining is referred to as "mounting", which takes a little adjustment, but certainly not insurmountable for the book's quality.
Check out these books  to see which best fits your sewing reference needs, and add them to your collection.