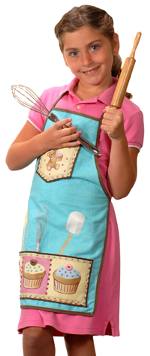 This time of year we're all looking for ways to make gifts faster and easier, and sewing kits can be a great option. Kits, like the Craftime Corp. child's apron
shown, come with all or most components ready to go. For example, this one comes with a pre-bound apron, studs and a tool for embellishing, and even a needle and thread for stitching on the pockets. Kits are timesavers, not only in the shopping process (just grab and go), but also in the gifting process…if you don't have time to make it up before the present exchange, simply give it to the recipient with an IOU for post-holiday assembly.
Kits are also perfect things to help children learn to sew, as usually they're simple to put together and they make great mom/daughter projects to work on together.
Look for sewing kits at your local fabric, quilting and craft stores, or on your favorite online sites. They're all kinds of options, from outdoorwear accessories to full-size quilts and totes, and lots of projects in between.